Gamelist
The games must be provided by the users, you can dump your own games from your original CDROMs or getting them from shops such as eBay or Amazon to very low prices. ePSXe supports different game/iso formats. It supports: cue/bin, cue/multi-bin, img/ccd, mds/mdf, pbp, nrg, cdi, ecm and iso. ePSXe requires that the games are uncompressed on the sdcard (previously to detect and run the games), so you could need tools such as "7zipper".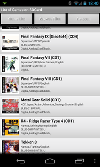 ePSXe includes a gamelist with cover art and game info support after scanning the sdcard and finding games (information and cover are downloaded from internet)
ePSXe supports creating shortcuts to the games from the Gamelist screen, clicking for a long time on the game entry will create a game icon in your tablet/phone which can be executed directly. Multi-Disc games are supported, an option is available during gameplay which allows changing the disc.
Memcards and Savestates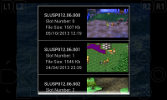 ePSXe supports saving savestates and memcards. It is fully compatible with ePSXe for Windows/Linux, so you can contine your games in your different devices. It is recommended to do backup of your saved games (especially to the memcards which are shared by all of games). ePSXe includes a "run bios" option which provides access to the PSX memory card editor that can be used to move and delete your memcard saves ePSXe includes support to upload/download memcards and savestates to Dropbox, to share between your devices